Hello!
As I have no clue whether it is a issue with nitrokey, nextcloud or the host of my nextcloud, I post this topic in Nitrokey and Nextcloud forum.
I own a Nitrokey Storage 2 and a Nitrokey Fido 2.
At the moment I work with both on an experimental stage, trying to find out, what is the best solution enhancing my login security.
In general both sticks are capable for 2FA, but I fail to make 2FA on my two Nextclouds with Fido 2 stick. One nextcloud is V.27 hosted on a IONOS webspace, the second is a IONOS managed Nextcloud V.26.
I will point out what is working and what isn't.
2FA with Nitrokey Storage 2 is working on my Nextcloud according to instruction as follows:
Two-factor Authentication for Nextcloud accounts - Nitrokey Documentation

2FA with Nitrokey Fido 2 is working in Nitrokey Forum and Nextcloud Forum as well. I log in with username and password and then I press the button on the stick for final access. Even the simulation of a lost or broken key and log in with backup passwords is working.

WebAuthn access without password (only button) is working, but this is a one factor solution.

Not working is 2FA with Fido 2 on the Nextclouds itself. I miss the possibility to setup the stick. In both of my Nextclouds V.26 and V.27 I have the following dialog: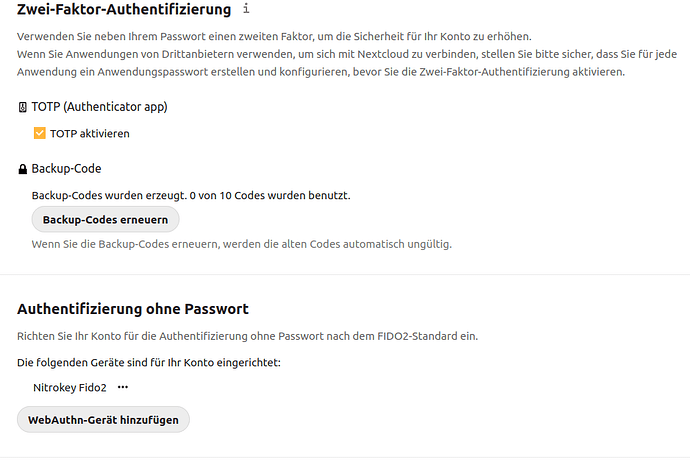 Whereas in an instruction video I saw a different dialog to set up a U2F device.
Photo follows later due to forum restriction for new users…

Any ideas in this forum why?
BR
Michael Schieder